Seven Things I Learned After I Colored My Natural Hair
When I colored my hair, I decided to only color one side. I wanted the flexibility to hide my color and and to have a little "sass" for the different styles that I do. I got the inspiration from a picture that I found via Google. What I didn't account for, is that the image that I saw on Google was of one style on one day. I didn't get to see what the color looked like with the puffs, braidouts and updos that I like to do on my own hair. Since my color, I have had to be somewhat creative with my styling. Because my color is only on the right side of my hair, sometimes the amount of color that shows isn't flattering for the style that I wear. I have to be intentional with how I part my hair…where I part my hair…what direction I part it, etc. I have to make sure that if I decide to part the colored section, that the amount of colored hair on either side of the part is flattering. If I do an updo, I have to pay attention to where the color falls when I pin my hair up. So. Many. Woes! Again, these are things that I, unfortunately, didn't consider when I colored my natural hair.


I have colored my hair before but this was the first time that I had actually lifted it. When I colored it a few years ago, I uses Manic Panic Hot Hot Pink. It gave my hair a burgundy undertone that was really only visible in the direct sunlight. Since I have ben natural, I have only used products with natural ingredients on my hair. A stylist mentioned to me that by using products with raw ingredients such as coconut oil, and shea butter, etc, I would see my color fade much more quickly. This has proven to be the absolute truth!
After only about three weeks, I began to see the orangey-red color rise from beneath my purple hues. Yuck. it made my color look pale, and malnourished lol. See the arial view below. No bueno!

 I have two sections of color in my hair. The section in the front lifted a bit lighter than the section in the back. #unsolvedmysteries When my color began to fade, the color in the front experienced the most dramatic change. Almost ashy. This is another view of a puff style in the direct sunlight.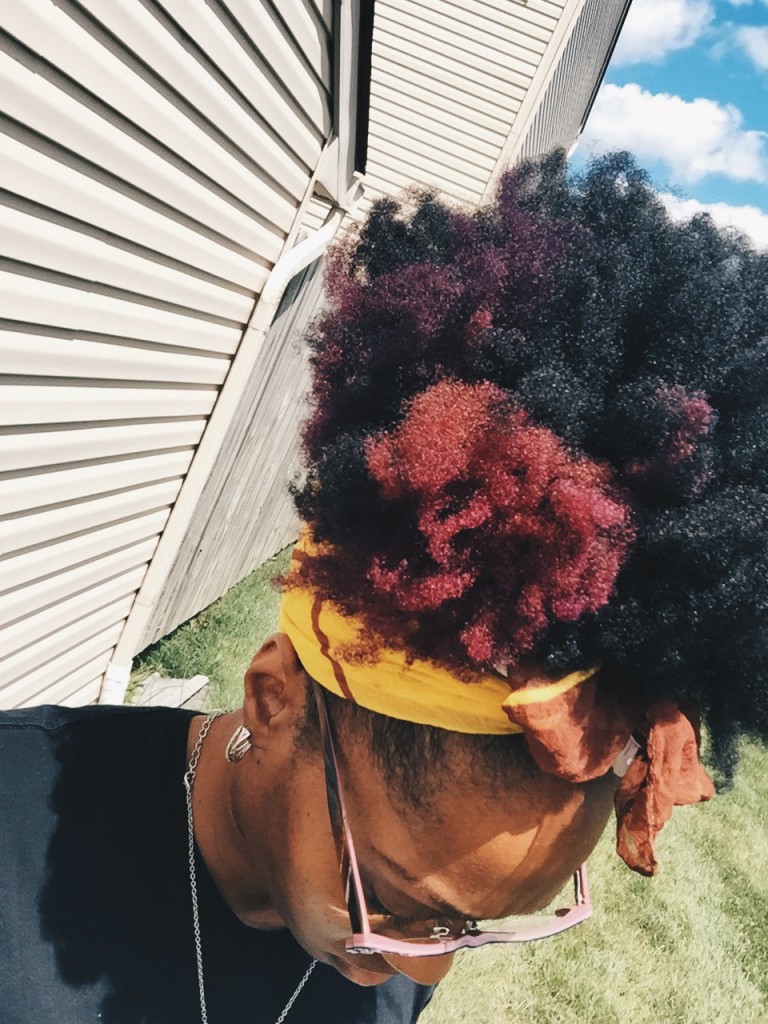 Can you say dry? Crunchy? Have you ever heard your hair actually make a crunch sound when you touch it? It sounds like an animal in the bushes. Horrid! My colored/lifted hair is much dryer than the rest of my hair. I have to pamper it. I make sure that I moisturize it almost every day! I use my Curl Delight Mist spray that is a humectant along with Moisturizing Hair Butter and Tangle Free Pudding. Colored hair CANNOT survive without using the LOC method. (Leave-In, Oil, Cream) My Curl Delight Mist is the Leave-In, the Moisturizing Hair Butter is the oil and the cream is the Tangle Free Pudding. These three amigos keep my hair lush and manageable.



I am guessing that because of the change of the structure of the follicle, whatever the lightening process does to each strand not only makes the hair more dry but the hair becomes more prone to tangles as well. Boo! Hiss! I have seen other naturals make mention of growing out color and how they will never lift and color again. Now I understand. Although I love my color, and the idea of re-coloring every 3 weeks with my temporary vegan pal, Manic Panic, I am not to happy about all of this extra work and pampering. It will be interesting to see how my hair behaves during the harsh Midwest winter.


As if natural hair isn't attention grabbing enough…try pairing it with a bold color. Since I've colored my hair, I've noticed that people don't talk to me…they talk to my hair. So disrespectful lol. The only people that appreciate the color and give compliments are other fellow naturals and other people with creatively colored hairstyles. *sigh*


Not that I was ever brave enough to wear blue lipstick or green eyeshadow before, but I would definitely have a hard time wearing bold colors now that I have purple hair. Don't get me wrong, those colors are gorgeous but for me, I would feel a little too colorful with purple hair and a bold makeup palette. I am choosing to stick with softer lip colors and neutral/natural eyeshadow hues.


I'm not sure if it's my color choice of purple or if it's where the color is placed in my hair but, I have noticed that some of my outfits that I put together have a different tinge to them now. When I try to go for the professional look, I really have to hide the color. It seems to clash for me. I guess it's a good thing that I have the color in a place where it can be hidden, depending on the style that I wear. When I am wearing my everyday attire, I have more of a youthful look because of the color. I am still learning how to accessorize and wear my hair with each ensemble. I have literally had to learn how to accessorize and put outfit choices together from scratch since I basically have to include my hair as a color accessory.


I do not regret coloring my hair. It is something that I have wanted to do for years. I haven't had my hair lifted or colored since high school. The beautiful thing is, it's just hair. I can dye it back black, cut it, shave it, braid it, you name it. It grows back. To those of you who have been wanting to color…my advice is to do it! If your hair is healthy enough and you don't mind putting in the extra pampering work, giver 'er a whirl. Have fun with it!